W. Bro. Edward Thomas Henry Hoar (Ted)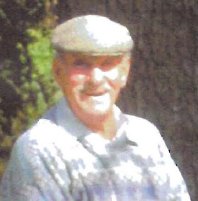 15th March 1925 to 8th June 2011
Ted was a Founding Member of Vectis Fairway Lodge 8923 and was Master in 1983
 Ted was initiated on the 27/11/1957 into (Which Lodge?)
A short history of Dad's life. (From his son, (Name?)
Dad/Ted was born here on the Island in Sandown in 1925, and was the youngest and soul survivor of four children. Their father died when Dad was only a few months old and although his mother remarried, the marriage failed, so their mother raised Ted and his brother John and his two sisters Eileen and Jean on her own. Not having had the input of a father had I believe a major impact on Dad's life and probably led him to being the determined and self-willed man that he grew to become.
Having grown up on the Island, in the Sandown and Newport areas, he left school at age 14 and had a variety ofjobs -factory work in Cowes; two jobs in tailors (one being at Hips in Newport) and a spell at Olivers shoe shop. Something to make you smile is the fact that Dad said he did not like shop work, but said the highlight of working in Olivers were the times when an attractive and nicely dressed young lady came in to the shop. He shared with a smile that when fitting her shoes he would try and steal a peek up her skirt! In 1941 at just 16 he decided to put his age on and enlist and he joined the men's army, it would appear against his mother's wishes as she later went up to Basingstoke where he was billeted and had him released from service. He then returned to the Island and worked on demolition sites/bomb damaged properties as there was little other work available at that time and he recalled to me how he enjoyed this work, especially going to the pub with the other workers at lunchtime. He commented that he was never happier than when he was in the company of ordinary working men and women.
Later in 1943 when aged 18 he rejoined the army and served in we believe the Worcestershire regiment and the Royal Corp of Transport or whatever it was called at that time. Dad also applied we think to other services, e.g. the RAF, but his colour blindness barred him from pursuing this path. It was whilst in the services that he met his first wife (my brother and I's mother) Doris who was a London Transport bus conductress and they courted and married in 1945 or thereabouts. They met while Ted was poorly and was a patient at Silwood Military Hospital and Convalescence home near Staines in Middlesex. Later this name would be used to name the bungalow where they later lived.
On leaving the Army after the war, Dad and our mother settled in London and they lived with her parents and Dad worked in bakeries eventually becoming a pastry cook and confectioner. I remember him recalling that when he started off he was put to work cleaning baking tins -probably the lowest job in the bakery business, but he said he worked hard at this and moved on quickly to other jobs within this business. As he progressed within this field, he informed me that with one job he had, the boss had told him the wage was £8.00 a week, and Dad said that when he got his first wage packet he found that it contained £8.00 with no deductions having been made for tax etc. So he approached his boss with this concern and his boss told him (in a London accent) 'Teddy when I advertise a job for £8.00 a week, you get £8.00 a week -not bleeding £7.00' and that always tickled Dad, and made him laugh.
After a time in London, he and our Mum moved to the Isle of Wight, where he continued working in the baking industry and he worked at Island Bakeries in Binstead. However, as today, wages on the Island were not like those in London. Receiving less than half what he had been used to, he started to consider other options
and recalled how he considered the Police service as a job when he used to see the local Policeman come into the bakery for a cup of tea. Dad said he thought that job looked a decent number -one in which you get a nice warm uniform and get paid to sit and drink tea! So Dad enquired about the Police and joined the Hampshire and Isle ofWight Constabulary. In actual fact he was a little too short when they measured his height, so they had him stand on a mat! This just made him up to the 5'4" minimum height requirement!
Dad joined the Police in 1951 and was stationed firstly at Newport, then at Whitehill, near Petersfield, where my brother Tony was born in 1952. After some happy years at Whitehill I was conceived in 1958 apparently after a good night out with Mum socialising at Whitehill Working Men's Club! Following much personal study by Dad, promotion to the rank of Sergeant followed and he was posted to Eastleigh where I was born in 1959. It was during his time at Whitehill that he took up golf He learnt to play at Blackmoor Golf Club and would often have a game with the Police Station cleaner. In the early 1960's he was again promoted to Inspector and moved to Aldershot and after a short time at Aldershot we again moved to the Isle of Wight. On arriving on the Island in about 1965 we lived in the Police House at 65 Royal Exchange, Newport. Shortly after our arrival on the Island Dad was promoted again to the rank of Chief Inspector and worked for 7 years in Administration, then he moved in about 1972 to Ryde. He remained there as the Sub-divisional commander for about 5 or so years until he was posted back to Newport, where he retired from the force in
1981, after 30 years service aged 56 years.
Backtracking slightly, it was in 1966/67 that Dad purchased the land and had his home at Blackwater Road built, which they named Silwood (after the place where he and our mother had met). In this his brother John (a bricklayer) helped him, as did his brother in law George (a carpenter). After building the bungalow and us moving in he then decided to extend the garden by purchasing additional land and so made the garden what it is today -a delight to his wife Doris, his later wife Pauline and to us all as a family. In the early days when laying out the garden he used to come home at lunchtime, from his job in Newport, have his lunch and do a spot of digging before returning to work.
On retiring from the Police, Dad helped out doing maintenance tasks at a friend's hotel and then he got ajob with Warners on the Island, emptying and maintaining their gaming machines. He finally retired from this in his mid 60's. This then enabled him to pursue his golfing interest, especially his love ofthe 19th hole' He recalled to me how his senior golfing years were so special as they brought him so much enjoyment. However, despite this he still had much energy and enthusiasm for life and during his late 60's and 70's he had spells at Osborne Golf Club as the Greens Chairman, in which he undertook some quite major works on the course and then he had a 3 year spell as the Club's President.
Again backtracking, following the sad loss of his wife Doris in 2000, he then aged 76 years married Pauline who loved and looked after him in his latter years. This was especially needed when his health started to decline at age 80. However, he still remained very fit and very active up until about 3 years ago (2008). Evidence of this is to be seen in the Order of Service where on the rear page is a picture of him working with his neighbour clearing a ditch.