W. Bro. Leslie Howard Hilliam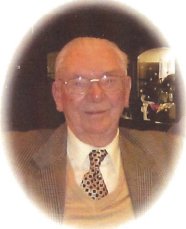 15th December 1921 to 14th February 2013
Member of Chine Lodge 1884 and Founder of Vectis Fairway Lodge 8923
Leslie Howard Hilliam, DOB 15 Nov 1921
He was born in Tunbridge Wells but left there at the age 3 when he moved to East Cowes where his parents had a grocers shop, now a car park.
School. He went to St Josephs college, York avenue East Cowes (Now Flats) then moved onto Ryde school at the age of 16.
He joined the army in 1941 in the Royal Artillery and saw service in Iraq, India and Egypt and was demobbed in 1945
He was Married in 1947, to Joyce who was ex army at Catterick , had one son and one daughter.
In Business
He had a shop in avenue road Sandown, a General stores opposite Basil Hill's yard, a Plumbing-central heating-water etc –You name it!
He then ran the Luccombe Hall Hotel in a partnership
Then the "Tile" House, then a Hotel in New Street
He retired in 1986
= = = = = = = = = = = = =
He was initiated into Chine Lodge in October 1958 and became Master in 1970
He was also a founder member of Vectensian Lodge
He was Founding Senior Warden in Vectis Fairway Lodge in March 1980  and became Master in 1981
He received Provincial honours, first, PPSGD and then PPGReg.
He was a member of Chine Chapter 1884 and was MEZ in1972 and received the rank of PPGSN.
He was also a Member of the Mark Master Masons and was "WM" at some stage.
He was a member of Ryde KT and became an Honorary  Member
He joined Rose Croix  99 at Ryde and attained the 31st Degree and later he became an honorary member there.
In his later years he gave up some degrees due to travelling and bad eye sight which affected his driving, but served with distinction . His ritual is legendary.
He passed to the Grand Lodge above, at home, with family on February the 14th after 66 years of Marriage to Joyce—Aged 92. One of life's quiet Gentlemen.